H&M Temporary Shuts There Doors to the Public in South Africa
Fashion News
H&M stores in South Africa have been temporarily closed following unrest triggered by the clothing brand's controversial 'coolest monkey in the jungle' hoodie ad.
Protesters flocked to stores over the weekend and police were forced to use rubber bullets to clear the crowds outside a branch of the fast fashion chain in Boksburg on Saturday.
The protests were organised by the Economic Freedom Fighters (EFF), which is a radical militant group started by expelled former African National Congress Youth League (ANCYL) President Julius Malema in 2013.
In Johannesburg, for example, protesters trashed H&M stores, pulling down mannequins, wrecking displays and pushing over clothes rails, The Local reports.
After protests took place at various branches of H&M across the country, the company made the decision to temporarily close all stores to keep staff and shoppers safe.
H&M stated that same day "H&M is aware of the recent events inside several of our South African stores. What matters most to us is the safety of our employees and customers. We have temporarily closed our stores in South Africa. None of our staff or customers have been injured. We continue to monitor the situation closely and will open the stores as soon as the situation is safe again.
We strongly believe that racism and bias in any shape or form, deliberate or accidental, are simply unacceptable. We stress that our wonderful store staff had nothing to do with our poorly judged product and image.," an official statement from H&M found on their site.
Yesterday, south Africa's opposition party the Democratic Alliance announced it would be reporting H&M to the International Chamber of Commerce, starting that they believe the ad breaks marketing guidelines.
The DA will also write to H&M to express our deep concerns over this tasteless advert which brings painful statements among Black South Africans as well as the Black communities abroad.
The statement made by the DA "This display at the H&M stores across the country are totally unacceptable and violence is not the way to fight racism, but it only compounds it.
H&M is "monitoring the security situation closely and the stores are open if we have assessed this situation to be safe."
"We strongly believe that racism and bias in any shape or form, deliberate or accidental, are simply unacceptable. We would like to stress that our store staff had no part in this poorly judged product and image."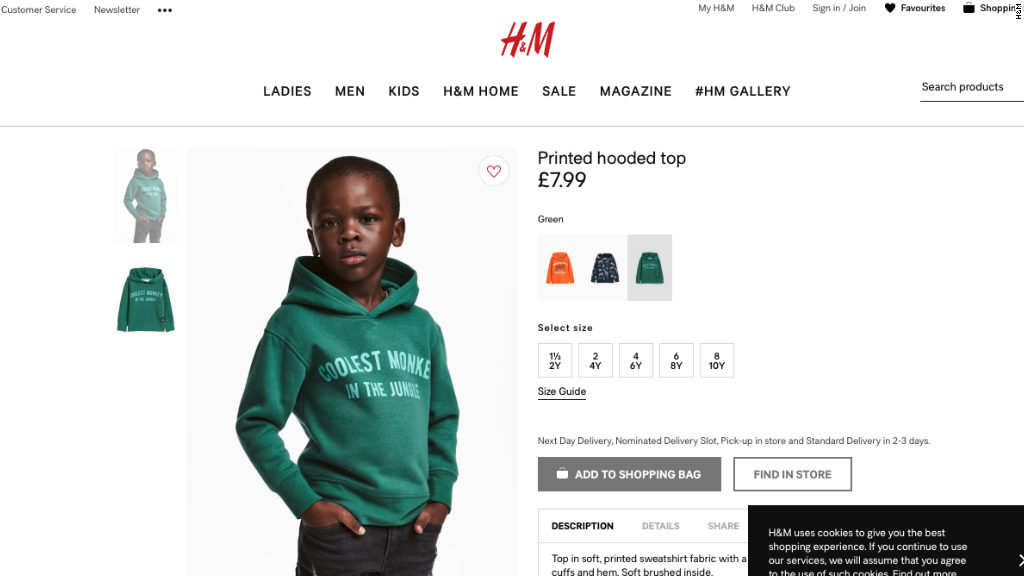 Since the picture of Liam Mango the little boy in the picture was spotted online, H&M has faced a barrage of criticism, with the decisions being branded as "racist" and "unacceptable."
High profile celebrities hove condemned the brand, the American singer G-Eazy and the Canadian singer known as The Weekend ended their partnership with them.